About Shreddies
Shreddies contain activated carbon cloth sandwiched between layers of regular fabric. The specialty layer absorbs and traps the odour before it can make its way out into the open.

Shreddies Australia is the official distributor of 'The original Shreddies Flatulence Filtering Underwear' within Australia and New Zealand.
Shreddies flatulence filtering underwear is manufactured with love using the best materials to ensure the highest standards. We and are proud to deliver a product to the Australian and New Zealand communities which has proven to have a positive impact on people's lives including improved health, relationships, and social and community engagement. 
removes flatulence odours
Gives you your freedom back
Insanely Awesome Products
Shreddies patented products use an activated carbon cloth that absorbs and removes all flatulence odours.
Giving freedom to sufferers of Irritable Bowel Syndrome (IBS), Inflammatory Bowel Disease (IBD) including Crohn's and Colitis, dyspepsia, gastritis, Small Intestinal Bacterial Overgrowth (SIBO), Bile Acid Malabsorption (BAM) and other bowel & digestive disorders.
Shreddies flatulence filtering garments feature an activated carbon back panel that absorbs all flatulence and continence related odours. Due to its highly porous nature, the odour causing particles becomes trapped and neutralised by the cloth, which is then reactivated by simply washing the garment.
Previous research published in The American Journal of Gastroenterology found activated carbon underwear to be the most effective method of removing flatulence odours. The garments have gone through rigorous testing, and findings from research by De Montfort University were presented at the 86th Textile Institute World Conference; the fabric "was found to remove sulphide and ethyl mercaptan so effectively that it can filter odours 200 times the strength of the average flatus emission." The fabric remains effective for the life of the garment providing the care instructions are followed correctly. The Shreddies motto is 'Fart with confidence' and our garments ensure just that.
Shreddies can be worn by anyone but they offer the perfect solution for treating excessive gas issues caused by IBS, Gastritis, IBD including Crohn's & Colitis, Dyspepsia as well as many other bowel and digestive disorders. Shreddies Flatulence Filtering products are an effective psychosocial support garment, renowned for helping wearers to feel more confident, and reduce continence and odour related anxieties.
Shreddies Flatulence Filtering Underwear filters flatus up to 200x the strength of regular flatulence. Our Undershorts, Bedding and Pyjama Range can also be worn over fecal incontinence pants, to absorb flatus and bowel odours. Anybody that suffers from excessive gas or odours caused by incontinence will know of the social issues that it can cause, Shreddies not only improves the physical symptoms but also helps to reduce the anxiety associated with this condition.
In many cases, simply not having to worry about gas can help improve a person's condition. Anxiety can create chemical changes in your body which can affect your digestive system, exacerbating a person's condition. The average person passes wind 14 times per day so whether you suffer from of a digestive disorder or just want help treating flatulence issues, Shreddies can help. Our garments are discreet, offering the wearer added assurance that nobody will be able to tell you are wearing anything other than regular clothing.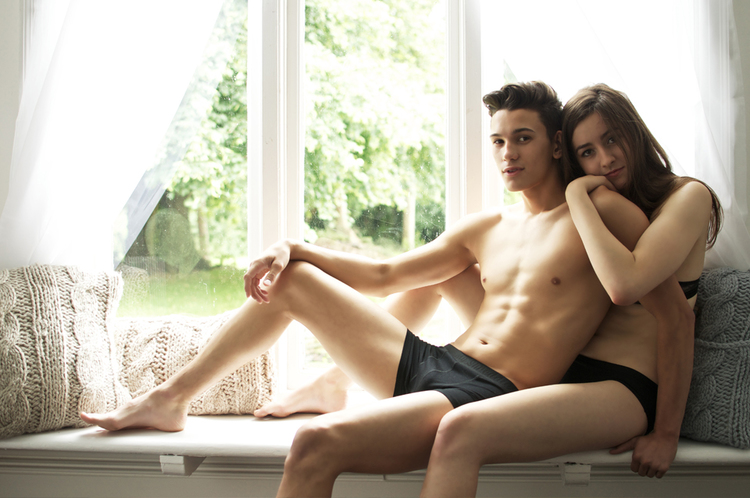 Shreddies were recognised for their innovative work and were awarded the 'Look Good, Feel Good' award from the Association for Continence Advice (ACA). The ACA are an organisation for health and social care professionals and the idea behind the award is to recognise products, which are comfortable, attractive and instill the user with confidence. "Fab idea, quality product, great styling, could save many a marriage. Fantastic innovation." 
ACA judging panel
Our products are designed to:
Reduce the impact of bowel incontinence
Help you feel more confident to undertake daily living activities such as attending appointments, using public transport, going shopping, and engaging in social or community activities
Support healthy relationships and social engagement inside and outside of the home
Improve health and wellbeing and reduce psychosocial impacts secondary to continence related odour, anxiety, fear, embarrassment, social isolation, and depression
Promote increased workforce, education and training participation and engagement
Our testimonials page contains a few examples about how our products can help and why everyone loves Shreddies.
Shreddies Flatulence Filtering Cushion

$

80.00

Shreddies Flatulence Filtering Cushion

$

80.00

Our flatulence filtering cushion can be used at home, work or on the go, thanks to it's lightweight and discreet design.
This cushion was designed to give you the added reassurance you're looking for.
Machine washable cover.

In stock (can be backordered)

Shreddies Ladies Flatulence Pyjama's

$

240.00

Shreddies Ladies Flatulence Pyjama's

$

240.00

Shreddies cotton pyjama bottoms eliminate bedtime odours, allowing you to drift off without worry. The pyjamas are the perfect solution to situations like staying with friends, a work-trip or a new relationship.

Our pyjamas and undershorts are designed to be worn over any underwear including incontinence pants, giving you 100% protection from flatulence and incontinence odours. The fabric design of the pyjamas maybe different to that shown at times.